Fiber Glass
Front Fender 15mm Wide B110/ute
| | |
| --- | --- |
| Buy Now | 55,000円 |
| Item Code | P-A-071 |
| STOCK | "Out of Stock" or "No longer available" |
Additional Purchase
This Item
Datsun 1200 Ute Rear Fender Fl...
ADD Buy
Item Description
Application.
Datsun 1200 (7001 - 7305)
Datsun 1200 ute (7510 - 9403)

BRAND New Bprojects.
This is front wide fender for datsun 1200 ute.
The front fender width can be wide to 15mm outside.
Made by glass fiber.
The knowledge of bodywork is necessary.

Include.
x1 front fender RH/LH.(1pair)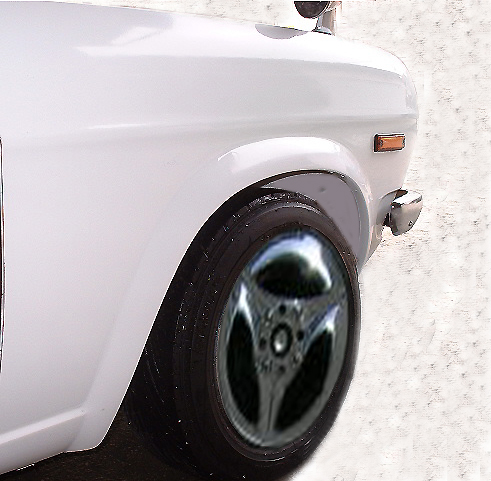 *The back side color has a different case by lot.
*This fender kit has the possibility that It cannot send as International shipping or may need extra shipping fee.
Note:
Okinawa/Hokkaido/Remote Island have risk of shipping fee.
There is the case thet we cannot send item to you in size limit of the Youpack.
If we have asked to the Sagawa that You will be need extra shipping; Eg it is more than 20000yen as 200 size.

●Notice.

| | |
| --- | --- |
| ref #1 | ref #2 |
| | |
These fender kit were produced by the craftsman hand-crafted technique for minimum manufacture.
Because we do not manufacture by mass production,
Bprojects want you to understand the following description subject matter.
These fiberglass products need further work.(cuting/sanding/putty up/paint/polish/finish)
Why ?
See reference pictures.
1. Because factory do sanding for clean and remove the unevenness to surface.(ref #1)
2. Scratches may remain when they removed it from a die.(ref #2)
3. Customer self, you have need to make shape fit for each vehicle.
*These are no mistakes and defective article.(ref #1 and #2)
**Professional Body Shop Installation is Recommended.
There is the case that We cannot send to the your country(Okinawa/Isolated island) by a size limit.
Customer Review
There are no customer reviews yet
この商品を買った人はこんな商品も買っています
39,270円
E-mail to a Friend
Share this item via e-mail