Gear Box
Heavy Duty Alloy Shift Control Bushing
| | |
| --- | --- |
| Buy Now | 3,240円 |
| Item Code | P-B-055 |
Item Description
Application.
Datsun 1200 (7001 - 7305)
Datsun 1200 ute (7510 - 9403)
Datsun Skyline C110 C210 (1973-1981)
Datsun BlueBird-U G610 Series ( from Aug.1974)
Datsun BlueBird 710 FS5W63A
Datsun A10 Violet ( up to March 1980)
Datsun BlueBird 810 (1978-1979)- FS5W63A , F4W71B, FS5W71B.
Datsun FairladyZ 240Z 260Z 280Z 280ZX (1969-1983)
Datsun Laurel C230 C31 (78-79-80-81-82-83)
Datsun 330 430 260C 280C
Datsun S110 180SX
Datsun Truck 720 1979-1982

F4W56L F5C56A F4W60L FS5W63A FS5W60A F4W71B FS5W71B
*Should do checking like the picture: There are possible differently for the Country specifications/ Age type/ Model grade!

Brand New ITEM.
From Japan to world wide.
How about the shift-feeling of your Datsun?
No good, Does shift-control rickety? then it is unpleasant.
Can return by those bush to a correct shift.
That shift feeling can return to "Good feeling" by those shift bushing.
This bushing made by Alloy duralumin.
**Surface is red anodized**

When hard to insert bushing: Please do chamfering to the shift control side.

*SIZE(Approx)
Brim OD: 18mm.
Insert OD: 12mm.
ID: 9.3mm.
Lenght: 9.5mm.
Converter mm-inch

Include.
x2 Bushing(pair).

Surface treatment: RED anodized.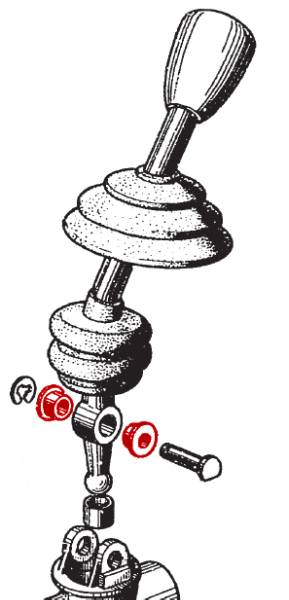 Customer Review
Review(1件)
投稿者:

Mike Dennison
★★★★★
投稿日:

2013 / 7 / 24 . 水曜日
Shifter bush,
Great product, heavy duty, Billet and anodized, fits great, well made item.

1 人中、1人の方が、「このレビューが参考になった」と投票しています。

Did this review serve as a reference?
報告する
この商品を買った人はこんな商品も買っています
2,700円
3,780円
E-mail to a Friend
Share this item via e-mail