Steering
B110 Steering Side Rod Ass'y LH
| | |
| --- | --- |
| Buy Now | 17,600円 |
| Item Code | E-G-059L |
Item Description
Application.
Datsun 1200 (7001 - 7305)
Datsun 1200 ute (7510 - 9403)
Doesn't fit for PB series.

Include.
x1 Outer Tie rid.(M14 Left-hand thread)
x1 Inner Tie rid.(M14 Right-hand thread)
x1 Side rod bar.
x2 M14 nuts.(M14-P1.5/Metaric)
x2 M10 nuts.(M10-P1.25/Metaric)
x2 Cotter pins.
*If you need both sides, Please purchase RH side.

NISSAN GENUINE NEW.
Side Rod also known as Tie Rod, consists of a threaded shaft and two ball-socket "ends".
This sale is assembly for LH side of the side rod for Datsun 1200 Ute.
If you want use for B110(Datsun 1200), Please check size/dimension.

SIZE(Approx)
Inner thread:M14 x P1.5.(Metric).
Stud thread:M10 x P1.25.(Metric).
Ball Joint Center to Center:296.8mm.(Metric).

Commonality Part Number:
48630-H1001
48630-H1002
48630-H1025

*The lower picture is a side rod for RH side.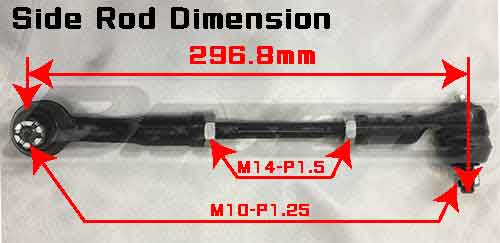 Place(For LH side)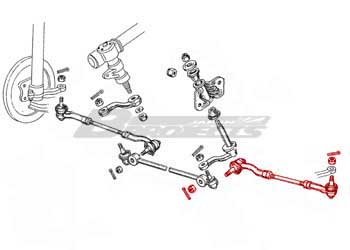 Customer Review
There are no customer reviews yet
E-mail to a Friend
Share this item via e-mail